D I S C O G R A P H Y :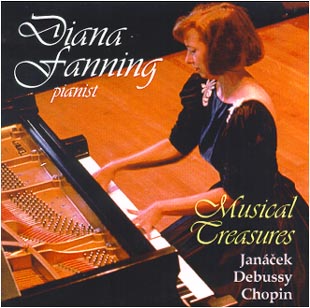 "Diana Fanning's CD is a treasury of gentlest playing. She brings out the floral spirit of Macdowell in the fastidious poignancy and nostalgic poetry of the Janacek collection. This is Janacek the modest singer rather than Janacek the white-haired revolutionary magus. The playing and the work will appeal to anyone who is in touch with the understated lyricism of Dvor?k. The flighty hazed fantasy of Ms Fanning's playing of Debussy's L'Isle Joyeuse made me want to hear her in John Foulds' April-England and William Baines' Island of the Fey or Silverpoints. The Chopin (and all credit to Ms Fanning for avoiding a garland of smaller pieces) is done with the emphasis on gentle poetry and muted display. This music, these performances and the velvety acoustic bring out the warmer emotions. Bask contentedly."
© Rob Barnett
Editor, Classical Music on the Web - CD Reviews
Editor, British Music Society Newsletter
"Another notable recent release comes from pianist Diana Fanning in a recital of solo piano music by Chopin, Debussy and Janacek, including Janacek's On an Overgrown Path. The Janacek work is particularly successful and the sensitive performance brings out the subtle intensity of these sometimes elusive works."
Classical London
"Diana Fanning is a pianist of musical sensitivity and substance, with a technique to express it. The importance of her new CD is in introducing the unusual and unusually beautiful piano music of Leos Janacek. Fanning's sensitivity to the music is evident from the opening. Her strong point is her ability to color the music with her touch. The more tender segments are exquisite in their sensitivity. Fanning's performance of the Debussy is quite beautiful, combining clarity, delicacy and grandeur. The Chopin Sonata is sensitively and well played. This is a beautiful and well-played CD throughout."
Jim Lowe
The Times-Argus, Vermont
"Diana Fanning's first album of solo music, "Musical Treasures", lives up to its name. This CD is definitely not your garden variety collection of cute little pieces, but of thoughtfully chosen, complete works that will delight the casual listener and please the seasoned connoisseur. Her interpretation of Janacek's little known "On an Overgrown Path", an autobiographical work made up of short pieces that can each stand on its own, magically captures musical patterns in nature and human voices just as the composer perhaps intended. An excellent introduction to the Czech composer, it is highly evocative and colorful as are the middle and final compositions - Debussy's pointillistic "L'Isle Joyeuse" and Chopin's impassioned Sonata No. 3. "
- Go here to read Fanfaire Guide's Review
>Leos Janacek (1854 - 1928)

Po zarostlem chodnicku -
On an Overgrown Path (1911)

29:47
1.
Nase Vecery -
Our Evenings
3:28
2.
Listek odvanuty -
A Blown-away Leaf
3:15
3.
Poijdte s name! -
Come With Us!
1:11
4.
Frydecka Panna Maria -
The Madonna of Frydeck
3:22
5.
Stebetaly jak Iastovicky -
They Chattered Like Swallows
2:20
6.
Nelze domluvit -
Words Fail!
2:08
7.
Dobrou noc! -
Good Night!
3:18
8.
Tak neskonale uzko -
Ununtterable Anguish
3:20
9.
V placi -
In Tears
3:20
10.
Sycek neodletel! -
The Little Owl Has Not Flown Away
4:05

>Claude Debussy (1862 - 1918)
| | | |
| --- | --- | --- |
| 11. | L'Isle Joyeuse (1903) | 5:58 |

>Frederic Chopin (1810 - 1849)
Sonata No.3
in B Minor, Op. 58
27:02
12.
Allegro maestoso
8:59
13.
Scherzo : Molto vivace
2:48
14.
Largo
9:55
15.
Finale : Presto non tando
5:20

About the musical selections:
Leos Janacek - On an Overgrown Path

On an Overgrown Path is Leos Janacek's most autobiographical work: the "path" is his life, crowded with memories dating back to his childhood in a small Czech village. This is a wonderfully evocative and poignant work, full of the lilting rhythms and haunting melodies of Czech folk music. Our Evenings incorporates Janacek's memory of being carried out of a burning house, crying bitterly, at age four. A Blown Away Leaf is a love song. Come With Us! contains a four- note fragment from a Czech folk tune, repeated over 20 times. The Madonna of Frydecka recalls religious processions to a church in the town of Frydecka, as well as a young shepherd playing his flute; Janacek called the contrasting middle section an "impassioned organ improvisation."
They Chattered Like Swallows recalls the chatter of schoolgirls. Words Fail! represents an unspeakable disappointment. Two lovers part company in Good Night!
The last three pieces depict Janacek's grief and despair during the illness and death of his only child, Olga, at the age of 20 from tuberculosis. According to a Czech legend, if an owl lingers outside the home of a sick person and cannot be chased away, that person will never recover.
In The Little Owl Has Not Flown Away!, the first impression is of efforts to shoo the owl away, followed by the owl's mournful song. Despite contrasting chorale sections, which suggest fervent prayers for Olga's return to health, the entire suite ends quietly, and tragically, with the haunting call of the owl.

Claude Debussy - L'Isle Joyeuse
According to pianist Marguerite Long, who studied all of Debussy's piano compositions under his supervision, Debussy attached extreme importance to L'Isle Joyeuse. This superbly colored, rhapsodic and exuberantly virtuosic piece is unique in Debussy's oeuvre. The composer drew inspiration for this work from Watteau's painting "L'Embarquement pour Cyth?re," a great 18th century French tableau awash in light and color.

Frederic Chopin - Sonata No.3 in B Minor Op. 58
A passionate nationalist, Frederic Chopin often found artistic expression in the dances and songs of the Polish people. Waltzes, mazurkas, nocturnes, scherzi, ballades - all paint pictures in sound and tell tales of struggle, passion and elegance. In his three Sonatas, he pours his unabashed lyricism, intensity and boldness into conventional "classical" music structure. The third Sonata, composed in 1844, is such a monument. The Allegro Maestoso, in sonata form, employs sharply contrasting themes: bold rhetoric gives way to astonishing, heartfelt song. Movement II is in strict scherzo/trio form and one's heart skips a beat at the virtuosity demanded of the player. The Largo, in song form, is Chopin at his most compelling, expressive, romantic best. The extraordinary Finale roils in perpetual motion. Ideas from the first movement are expanded, and a bold rhythmic force brings the great work to it's splendid conclusion.

About this recording:
Recorded at the Center for Fine Arts Concert Hall, Middlebury College, Vermont.
Edited and mastered by Nicholas Prout. Recorded by Chip Stokes. Ed And Emily Hilbert, piano technicians.

This page has been visited 1 times.





W h a t ' s N e w :

Read Jim Lowe's review of the Davydov-Fanning Duo's performance in Randolph, VT.

Read Jim Lowe's review of Diana's March, 2012, concert in Montpelier, VT.

Read a recent review of Diana Fanning's April concert in Le Pays Roannais.

Also read the review of Diana Fanning's concert in Charlieu, France.

Read Jim Lowe's review of Diana's 40th Anniversary concert as well as his homage to the Davydov-Fanning Duo.

Read two outstanding reviews of Diana Fanning's Munich concert in April 2006.

Here is a review of Diana's May 2010 concert in Bath, Maine.

Order Diana Fanning's CD of works by Janacek, Chopin, and Debussy

Announcing a new CD by the Davydov-Fanning Duo



L i s t e n :



Leos Janacek
from On an Overgrown Path
1. Nase vecery



Leos Janacek
from On an Overgrown Path
3. Pojdte s nami



Leos Janacek
from On an Overgrown Path
7. Dobrou noc!



Leos Janacek
from On an Overgrown Path
9. V placi



Claude Debussy
from L'Isle Joyeuse



Frederic Chopin
from Sonata No.3 in B Minor
1. Allegro maestoso



Frederic Chopin
from Sonata No.3 in B Minor
3. Largo



Frederic Chopin
from Sonata No.3 in B Minor
4. Finale: Presto non tanto


R e v i e w s :


"American pianist Diana Fanning transported her audience into a scenic paradise." - Suddeutsche Zeitung, Munich
"Miss Fanning projected interpretations of strength and impact." - The New York Times
"Diana Fanning is a brilliant pianist; a natural born musician." - H.C. Robbins Landon
"Diana Fanning's virtuoso playing was rich in nuances ... the effervescent brilliance and passionate sweetness of her playing was acknowledged by sustained applause." - Munchner Merkur, Munich
"Diana Fanning's ability encompasses not only musical empathy but also strength in structuring rhythmically and sonorously." - Suddeutsche Zeitung, Munich
"Diana Fanning's sound achieved impressionistic iridescent intensity; Ravel's painting of sound received its luminosity and character through her virtuoso playing." - Munchner Merkur, Munich
"This American pianist has an excellent balanced technique and possesses the flexibility and pure feeling which all result in pure and noble musicianship." - Haarlem Dagsblad , The Netherlands
"The Vermont Symphony concert was highlighted by the brilliant solo work of Diana Fanning. At once driving and lyrical, her interpretation brings to the concerto all the passion which Schumann must have originally intended." - The Eclipse , Burlington