W E L C O M E :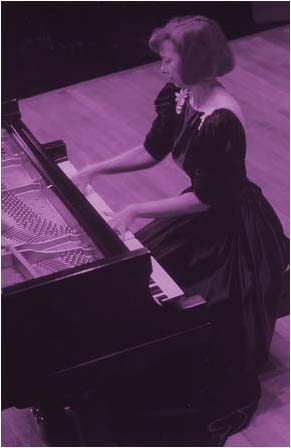 "On Sunday, August 9th, 2009, I was invited to a piano recital in Wellfleet, Ma., to hear pianist Diana Fanning.

I have been completely involved in the music world as a performer and teacher for many years. Rarely have I had the great pleasure of hearing an artist of this caliber. This pianist, who combines technical skill along with unusual sensitivity of musical expression, provided me with a recital which will remain in my memory."
- Bernard Greenhouse
founding cellist, Beaux Arts Trio

"With her celebrated and unique sound, the artist enthralled her audience, expressing diverse atmospheres and nuances through the beauty of her colorful playing. The audience was captivated by Diana Fanning's authenticity and especially by her indisputable talent."
- Le Progrès, France
March 2010

"Diana Fanning, among so many talented great pianists of our time, has a rare quality, which I do admire. The fact that she does not take for granted the "built in" tone quality of the instrument; but as Marie Jaël, the extraordinaire great French pianist of the 19th century, she works on her touché as an impressionist would use his palette to produce different atmospheres and moods through beautiful sounds: this quality should be noticed in our epoch, in which speed, volume and technical abilities prime above interpreting music."
- Louis Moyse

"Diana Fanning is a brilliant pianist; a natural born musician."
- H.C. Robbins Landon

Pianist Diana Fanning has toured extensively as a solo performer and chamber musician throughout the U.S. and in England, France, Austria, Switzerland, Holland, the Czech Republic, Canada and Germany. She has performed at the Schloss Leopoldskron ("Sound of Music" castle) in Salzburg, and recently played a solo recital in Prague sponsored by the International Dvorak Society. In 2014, she and the outstanding Dutch cellist Dieuwke Davydov embarked on a month-long tour with concerts in Paris, Charlieu, Amsterdam, and other Dutch cities. A French critic wrote that "one could feel that Diana Fanning poured her heart and soul into her music-making." The Davydov-Fanning Duo returns to Europe for its 8th concert tour in March and April, 2017.
After a solo recital in Munich, a critic wrote that "Diana Fanning stunned her listeners with the rich spectrum of subtle colors and tonal nuances she revealed. Her recital seized the audience with a veritable deep magic." Ms. Fanning has performed on numerous occasions as a concerto soloist with the Vermont Symphony Orchestra. She was featured as soloist in a performance of Beethoven's Piano Concerto No. 3 in the debut concert of the Champlain Philharmonic Orchestra, and was invited back for performances of Gershwin's Rhapsody in Blue. Vermont Public Television featured her in a program of works by Scarlatti, Ravel and Chopin. Radio audiences hear her frequently over Vermont Public Radio, and she was interviewed on Radio Prague. She has also performed live on "Morning Pro Musica" (WGBH-FM) Boston and on WNYC, New York City.
As a chamber musician, Ms. Fanning has been a guest artist with the Takacs, the Jupiter and the Alexander String Quartets, and with ensembles from Point Counter Point Music Camp, which she owned and directed for ten years with her husband Emory Fanning. As a member of the Davydov-Fanning Duo, she has undertaken concert tours in Europe which included recordings for Radio Netherlands.
Ms. Fanning's CD of works by Janacek, Chopin, and Debussy received enthusiastic reviews in England and the U.S. She has also released a recording of live concert performances with cellist Dieuwke Davydov. Ms. Fanning's principal teacher was Ruth Geiger of New York City; she also studied with Marcelle Heuclin at the Paris Conservatory. She is an Affiliate Artist at Middlebury College in Vermont.
I hope you enjoy the website. Please write any comments you have about the site in my guestbook--I'd love to hear from you!


S i n c e r e l y ,
D i a n a F a n n i n g
M i d d l e b u r y , V T


This page has been visited 1 times.





W h a t ' s N e w :

Read Jim Lowe's review of the Davydov-Fanning Duo's performance in Randolph, VT.

Read Jim Lowe's review of Diana's March, 2012, concert in Montpelier, VT.

Read a recent review of Diana Fanning's April concert in Le Pays Roannais.

Also read the review of Diana Fanning's concert in Charlieu, France.

Read Jim Lowe's review of Diana's 40th Anniversary concert as well as his homage to the Davydov-Fanning Duo.

Read two outstanding reviews of Diana Fanning's Munich concert in April 2006.

Here is a review of Diana's May 2010 concert in Bath, Maine.

Order Diana Fanning's CD of works by Janacek, Chopin, and Debussy

Announcing a new CD by the Davydov-Fanning Duo



L i s t e n :



Leos Janacek
from On an Overgrown Path
1. Nase vecery



Leos Janacek
from On an Overgrown Path
3. Pojdte s nami



Leos Janacek
from On an Overgrown Path
7. Dobrou noc!



Leos Janacek
from On an Overgrown Path
9. V placi



Claude Debussy
from L'Isle Joyeuse



Frederic Chopin
from Sonata No.3 in B Minor
1. Allegro maestoso



Frederic Chopin
from Sonata No.3 in B Minor
3. Largo



Frederic Chopin
from Sonata No.3 in B Minor
4. Finale: Presto non tanto


R e v i e w s :


"American pianist Diana Fanning transported her audience into a scenic paradise." - Suddeutsche Zeitung, Munich
"Miss Fanning projected interpretations of strength and impact." - The New York Times
"Diana Fanning is a brilliant pianist; a natural born musician." - H.C. Robbins Landon
"Diana Fanning's virtuoso playing was rich in nuances ... the effervescent brilliance and passionate sweetness of her playing was acknowledged by sustained applause." - Munchner Merkur, Munich
"Diana Fanning's ability encompasses not only musical empathy but also strength in structuring rhythmically and sonorously." - Suddeutsche Zeitung, Munich
"Diana Fanning's sound achieved impressionistic iridescent intensity; Ravel's painting of sound received its luminosity and character through her virtuoso playing." - Munchner Merkur, Munich
"This American pianist has an excellent balanced technique and possesses the flexibility and pure feeling which all result in pure and noble musicianship." - Haarlem Dagsblad , The Netherlands
"The Vermont Symphony concert was highlighted by the brilliant solo work of Diana Fanning. At once driving and lyrical, her interpretation brings to the concerto all the passion which Schumann must have originally intended." - The Eclipse , Burlington