<![if !supportEmptyParas]> <![endif]>
SPLURGES WORTH THE $$
<![if !supportEmptyParas]>
La Montée (de Lait) -- Originally a cheese-based restaurant, but now an upscale bistro. Used to be in our neighborhood, but now moved downtown: 1424 Bishop (Maisonneuve) 514-289-9921, 888-289-9921. http://www.lamontee.ca/
Brunoise -- Our fave small bistro opened a branch downtown, then closed the branch near us, alas! http://www.brunoise.ca/
Laloux -- Romantic Belle Epoque decor, sophisticated French nouvelle cuisine. "Paris on Pine" 250 des Pins E (Laval) 287-9127. (that's Laloux at the top of the page) http://www.laloux.com/ Not sure how it is now -- they had a bad review, then overhauled with two new chefs and it was good again, and now under new ownership.
FRENCH BISTRO & FRENCH
L'Express -- the classic on St. Denis, complete with jars of homemade cornichons and lots of classic bistro fare. Relatively inexpensive, but always packed (it's open till 3 a.m., too, sometimes it's easier to get in after 11 or 12). 3927 St. Denis (Duluth), 845-5333.
Au 5ième Péché -- A small, friendly bistro with creative French cuisine. 330 Mont-Royal Est (Drolet), 286-0123. http://www.aucinquiemepeche.com/
Au Petit Extra -- big and noisy, with a chalk menu on the wall. Also very popular, in spite of the odd location, near the Village. 1690 Ontario E (Champlain) 527-5552.
Continental -- Good nouvelle/fusion appetizers, hip crowd, open late, open to the street in good weather. Original location at 4169 St Denis burned in August 2007, now moved a block down the street to 4007 St. Denis (Duluth) 845-6842.
<![if !supportEmptyParas]>
SEAFOOD
Poisson Rouge -- very fresh fish at a simple BYOB resto on the northern border of Parc Lafontaine. 1201 Rachel E (de la Roche) 522-4876.
Symposium (see Greek)
THAI <![endif]>
Thai Grill -- at the corner of the Main (St. Laurent) and Laurier, this place is doubly hip and attracts a young crowd, but the food is innovative and good. (Avoid picking the fresh fish, which can be pricey!) 5101 St. Laurent (Laurier) 270-5566. http://www.thaigrill.ca
Thailande -- Wide range of sauces, curries, and seafood available to mix & match. 88 Bernard W (St. Urbain) 271-6733. Thailande
ChuChai -- Vegetarian Thai! Possibly the best vegetarian restaurant in Montreal, with various mock-meat dishes. Mock-duck salad, tofu with peanut sauce & crispy spinach. 4088 St. Denis (Duluth) 843-4194. There's a fast-food branch next door, Chuch, where you can eat in for lunch, and they also market good veggie spring rolls in most stores.
INDIAN
Bombay Mahal -- Popular and authentic BYOB place in Park Extension 1001, Jean-Talon W, (Birnam) (514) 273-3331 – they don't take reservations and there's usually a line. http://restaurantbombaymahal.com/
Malhi Sweets -- Our old favorite, very authentic, complete with neon lights and Bollywood on large screen TV! Catherine Deneuve celebrated her birthday here. 880 Jarry W. (Wiseman) (514) 273-040.
<![if !supportEmptyParas]>
GREEK
<![endif]>
Chez Martha – Small family restaurant with owners from the Peloponnese. 762 Jean-Talon West (Outremont), 514-303-7199.
Marven's Restaurant -- Family style, HUGE portions of excellent fried squid; grilled octopus great if they haven't run out. 880 Ave. Ball (Wiseman) (514) 277-3625.
Ella Grill -- Nice fried zucchini & eggplant, grilled octopus, and fresh fish near the village and in a spacious elegant room. 1237 Amherst (St. Catherine) 523-5553. http://ellagrill.com/
Psarotaverna Symposium -- Our old favorite on St. Denis has moved down the street, but still has very reasonable fish dinners including many courses and excellent fresh fish. With grilled fish for two you get appetizer, grilled shrimp and squid, Greek salad, dessert and coffee. 3829 St. Denis (Roy) 842-0867.
Ouzeri St. Denis -- Popular spot on upper St. Denis, excellent variety of mezedes in huge portions, very reasonable wines. Some different dishes, not gourmet but relatively cheap & open late. 4690 St. Denis (Villeneuve) 845-1336.
<![if !supportEmptyParas]> <![endif]>
CHINATOWN
These places are open till 4 a.m., so they work even after a late show! Reservations not really needed here. Some dishes posted on walls, sometimes only in Chinese, so see what other people are getting. Cheaper than other restaurants. Two favorites:
Keung Kee – crowded late. 70 La Gauchetière (St. Urbain) 393 1668
New Dynasty -- Popular & wide variety. 1110 Clark (la Gauchetière) 871-8778.
<![if !supportEmptyParas]>
SPANISH
Casa Tapas -- An old standby half a block from us. Nice atmosphere and good tapas. 266 rue Rachel Est (Henri-Julien) (514) 848-1063 www.casatapas.com
Sala Rosa / Centro Español -- A cross between a family/community place and a hipster hangout with reasonable and excellent tapas. You never know whether you'll find the seniors playing cards at half the tables or a live flamenco show. The queso de cabra con miel (fried goat cheese with honey) is not to be missed! (open Sunday) 4848 boul. St-Laurent (St. Joseph) 844-4227.
http://www.casadelpopolo.com/salaresto/about.htm
(Catalan/Basque): Pintxo -- Excellent upscale tapas place specializing in pintxos. Try the tasting menu! 256 Roy E. (Laval) (514) 844-0222
http://www.pintxo.ca/
OTHER
PORTUGUESE: Le Roi du Plateau -- Perhaps the most popular of the several Portuguese grills in the Plateau. Reasonable prices and big portions: garlic shrimp, grilled squid or cod, meats too. Lively crowd, as it's near St. Laurent. 51 Rachel W (Clark) 844-8393 (closed Sunday).
BRAZILIAN: Senzala -- Good variety of Brazilian dishes, and excellent caipirinhas! They're reputed to have a great (and very filling) brunch. 177 Bernard (Esplanade) 274-1464.
http://www.senzala.com/
INDONESIAN: Nonya -- Now in its third and most successful location. Excellent Indonesian fare, the only one in Montreal – try the rijstaffel for a fabulous sample! A bit pricey, but very authentic. 151 Bernard W (Waverly) 875-9998
www.nonya.ca
JAPANESE: Isakaya -- Unusual and authentic Sushi and Japanese bistro fare. Try the octopus crepe with bonito flakes – it waves at you while you eat! A good option after the nearby Cinema du Parc. 3469 du Parc (Milton) 845-8226.
REUNION ISLAND: Piton de la Fournaise -- Special, exotic, and somewhat spicy. BYOB! 835 Duluth (St. Hubert) 526-3936.
EMPANADAS: La Chilenita -- Great variety at a bare-bones outlet that makes virtually nothing else -- eat in or take out. 4348 Clark (Marie-Anne) and 152 Napoleon (de Bullion).
PERUVIAN: El Jibaro -- Amazing cebiche and fried seafood, one order of jaleo serves about 3. 7183 St Hubert (Jean Talon) 948-4827.
PERUVIAN: Eche pa Echarle --Even more variety. 7216 St-Hubert (just north of Jean-Talon) 276-3243.
SYRIAN: Petit Alep -- Cheaper branch next door to Alep. Excellent Middle Eastern appetizers, great vegetarian platter & laid-back atmosphere. Open late. 191 Jean Talon E (near the market) 270-9361.
BRUNCH (or lunch)
Chez José -- Small neighborhood cafe with great sandwiches and smoothies. Friday and Saturday they have a special fish soup that's worth the trip. 173 Duluth E (Hotel de Ville) 845-0693.
Beauty's -- An upscale diner landmark on St. Urbain. Smoothies, bagels, omelettes, rice pudding, blintzes. Long lines for brunch on weekends. 930 Mont Royal W (St. Urbain) 849-8883.
L'Avenue -- Too cool for words and HUGE portions! Expect lines on weekends. Check out the wild bathroom too. 922 Mont-Royal E (St. Hubert) 523-8780.
Leméac -- For an elegant Outremont brunch, this is the place to be. Airy atmosphere & gourmet French cuisine. They also have a great after 10 pm menu: 22.00 for $22. 1045 Laurier W (Durocher) 270-0999.
<![if !supportEmptyParas]> <![endif]>
ICE CREAM
Havre aux Glaces -- Possibly the best -- very inventive, new flavors every season, like crème brulée a l'érable or pear with liqueur, blood orange, etc. in the Jean Talon market.
Bilboquet -- An Outremont tradition, try the "tire d'érable" (maple taffy) ice cream in the spring. 1311 rue Bernard W (Outremont) 276-0414.
Meu-Meu -- Excellent hand made ice creams, try the spicy ginger! 4458 St-Denis (Mont Royal).
PASTRIES
Gascogne -- Gourmet foods and a wide selection of pastries. Pick things up at the counter & eat in. Or make up a picnic to take to the mountain nearby. Open store hours only. 237 Laurier W (Jeanne-Mance) 490-0230 (3 other branches too; display case below).
Le Fromentier -- Great breads and pastries with clever names like "chevre au lait" 1375 Avenue Laurier Est (Lanaudière). (514) 527-3327
Pâtisserie Kouign-Amann -- Our local Pâtisserie! Try the Breton specialty, kouign-amann, soaked in butter, or the lemon or orange muffins. 322 Mont-Royal Est (Henri Julien) 845-8813.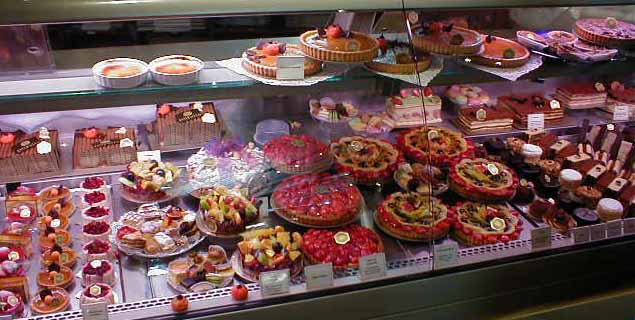 For more great tips, try the blog Endless Banquet (we agree with them almost all the time).
Another place for up to date information: Chowhound Montreal .
<![if !supportEmptyParas]> <![endif]>