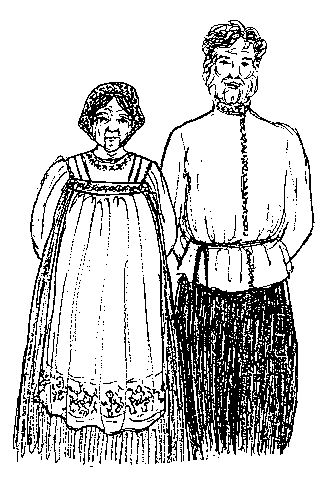 (Graphic by Bethany Steinsieck, '93)
Founded in 1983, the Middlebury Russian Choir consists of about 15 men and women. Most, but not all, are students at Middlebury College, and most, but not all, study Russian.
---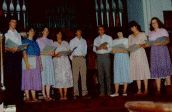 This is the first Russian Choir in 1984
---
The choir repertoire consists of liturgical music from the Orthodox tradition: Russian, Georgian, Serbian, and Byzantine hymns from the Middle Ages to this century.
The choir also sings folk music, mostly from Russia and other republics of the former Soviet Union. We devote much attention to authenticity of arrangements and of singing style: this is not the folk repertoire that was presented as Russian in the days of stagnation, but the real thing, which is often bawdy and always entertaining. Folk rituals, such as gadalki and koliadki, also form part of our repertoire, as do some Russian dances. We perform in traditional Russian costume.
We have been on television in the United States several times (from Middlebury Community Television to a live Today Show), as well as performed at colleges and schools throughout New England. Since 1986 we have collaborated with the Dmitry Pokrovsky folk ensemble and performed on several occasions with them in Russia and America.
We sang a concert at Ambassador Matlock's visit to the Pushkin Institute, parts of which were broadcast on radio.

We participated in an hour-long television concert for children, "Hello, Music!" with Pokrovsky.

We sang in the Moscow State University April 1 extravaganza to a packed hall and were again televized. Several professional performers participated, yet we were the best received of any that evening.

We sang a full concert in the 18th century church of the Intercession at Fili in Moscow. Parts of that concert were shown on "Vremya" and "Vremya--120 minut."

Our concerts have been broadcast in America on Vermont Public Radio, and on the Today Show.

In 1993 we toured Russia, performing in churches and concert halls. Performances included the American Embassy, the Church of the Intercession at Fili (Moscow), the Kazan Cathedral (Petersburg), and the Kostroma Conservatory.

Concerts were televised in Moscow (Ostankino 1) and Yaroslavl', and all-Russian and regional radio programs were broadcast from Moscow and Vladimir.
For a student choir-member's account of our Russian tour published in Middlebury Magazine, read Lisa Horwitz's "To Russia with Music."
A tape of the Middlebury Russian Choir, Mnogaya Leta! - Many Years! (1993) contains a representative sampling of the choir repertoire.
Kevin Moss, founder and director, is Professor of Russian at Middlebury College, where he teaches Russian language and literature. He has studied and performed choral music in the United States, Russia, and Yugoslavia.
There are several other Russian choirs out there, but they are different. Like the others, we sing both liturgical and folk music, yet only we devote as much time and attention to singing authentic folk music. Few choirs sing it even in Russia, yet it is immediately recognized and appreciated. Everywhere we were assumed by our listeners to be a Russian group.
I often get e-mails asking how to find recordings or sheet music of Russian music. The best source I know of, especially for liturgical music, is MUSICARUSSICA:
---
If you are interested in a performance, e-mail me at moss@middlebury.edu.

---

Back to Kevin Moss's Home Page